Our Visit to Barkey Headquarters in Germany
In early December, we traveled to Germany to visit the headquarters of Barkey GmbH & Co. KG and spread awareness of CAR T-cell therapy and pediatric cancer research.
A family owned business, Barkey manufactures medical technology used to warm a patient's blood, plasma, and stem cells. This device, the Barkey Plasmatherm, is an integral component to the CAR T-cell therapy process. It is used twice in the treatment process — first, to thaw the patient's frozen T-cells after they are sent to the laboratory to become CAR-T cells, and second to carefully warm those reprogrammed cells prior to infusion.
To make this visit special, the Barkey team worked to develop four custom Emily Whitehead Foundation branded Plasmatherm devices in Emily's favorite colors — yellow and green — and sent the housing for a fifth device to Emily for her to paint prior to our visit.
On the day of the event at Barkey headquarters, Tom spoke and shared our story and a message of gratitude with the Barkey employees — followed by Emily, who said a few words of thanks before signing each of the EWF Plasmatherms that she helped to design.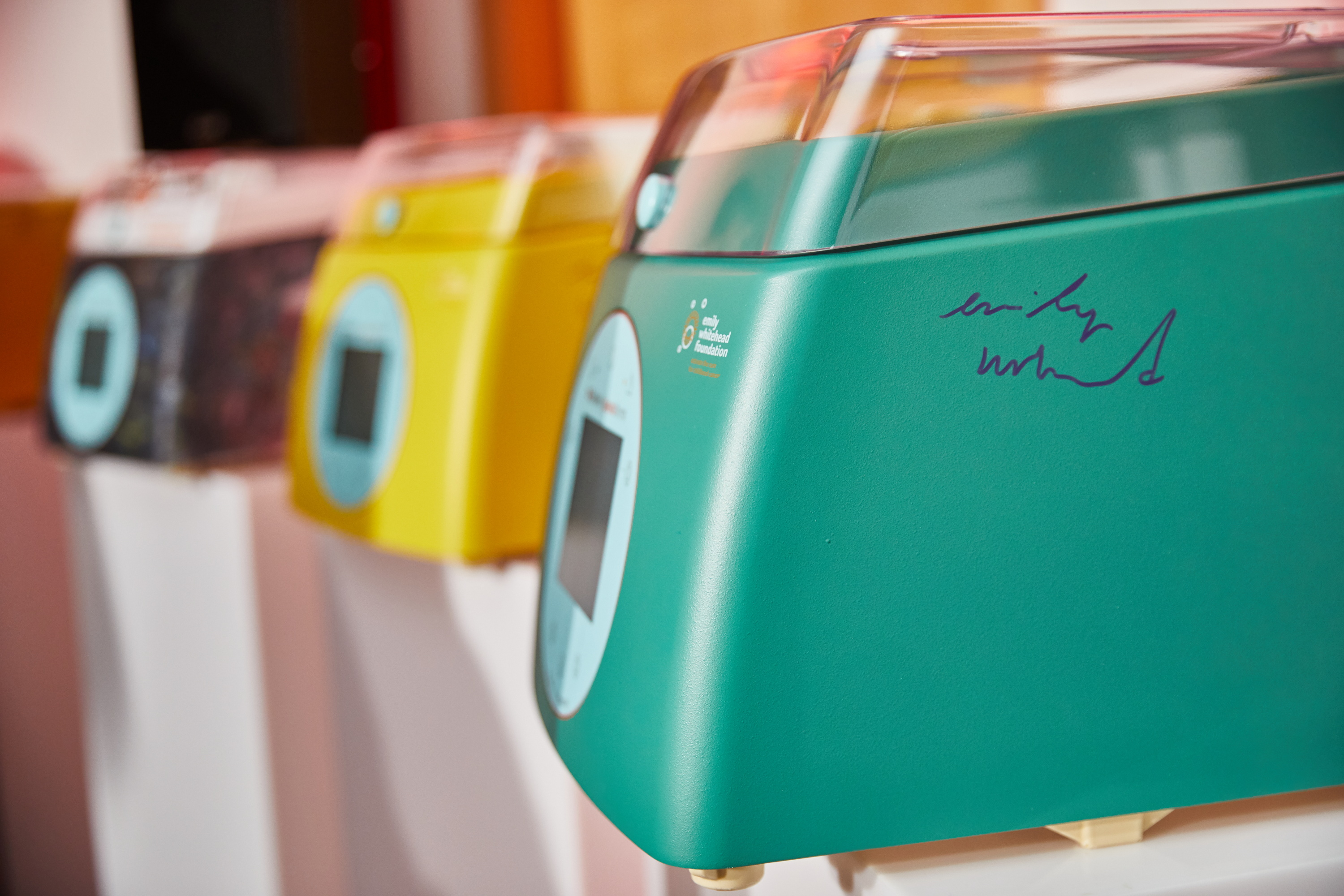 The yellow and green Plasmatherms are fully operational and will be sold with one-hundred percent of the proceeds benefiting the Emily Whitehead Foundation, while the one custom painted by Emily will remain at Barkey headquarters on display.
In addition to the warm reception we received at the Barkey event, we had an incredible time touring the surrounding region. We are so grateful to the entire team at Barkey, and especially want to thank Chris Barkey, Armin Nowack, Daniel Kemmerling and Thomas Barkey for their hospitality and ensuring that we had a wonderful visit. Emily very much enjoyed seeing and exploring the Christmas markets and buying gifts for her friends at home.
We also had the opportunity to share our story and advocate to many local media outlets. We are especially thankful to the crew from RTL WEST for spending the afternoon with us in Düsseldorf — and to the local media that provided such great coverage of the Barkey event.
We are grateful for the opportunity to inspire the Barkey team and we look forward to returning one day soon!
Press Release: EMILY WHITEHEAD FOUNDATION VISITING BARKEY
Media Coverage:
Neue Methode Gegen Krebs – RTL West
New Method Against Cancer
Leopoldshöher Lebensretter-Maschine – Radio Lippe
Leopoldhöher lifesaver machine
Lebensrettende Technologie aus Leopoldshöhe – Neue Westfälische
Life-saving technology from Leopoldshöhe
Junge Amerikanerin bedankt sich für Krebstherapie – WDR
Young American woman thanks for cancer therapy
Kleine Emily dankt lebensrettern – SAT.1
Little Emily Thanks Life Savers