Emily Whitehead Foundation Recognizes Dr. Siddhartha Mukherjee as the 2022 Bill Ludwig Pioneer Embassador Award Recipient
The Emily Whitehead Foundation is proud to recognize Dr. Siddhartha Mukherjee as the 2022 recipient of our Bill Ludwig Pioneer Embassador Award!
Before Emily Whitehead became the first pediatric patient to receive CAR T-cell therapy, there were three adults that participated in Dr. Carl June's groundbreaking clinical trial at the University of Pennsylvania. Bill Ludwig was the first of those adults, making him the patient that pioneered CAR-T for everyone that has since received it. Prior to his passing in early 2021, CAR T-cell therapy gave Bill and his family the gift of ten healthy, happy, and cancer-free years.
In September 2021, our primary Embassador Award was renamed to honor Bill's memory and give thanks to his bravery as a pioneer. With each year that this award is presented, we will seek to recognize an individual or entity that shares those attributes displayed by Bill Ludwig, Emily Whitehead, their families, and the care teams that contributed to the life-saving treatment they helped to pioneer.
On Saturday, September 17, at our 2022 Emily Whitehead Foundation Believe Ball, we had the honor of presenting this year's award to Dr. Siddhartha Mukherjee, who accepted virtually via video.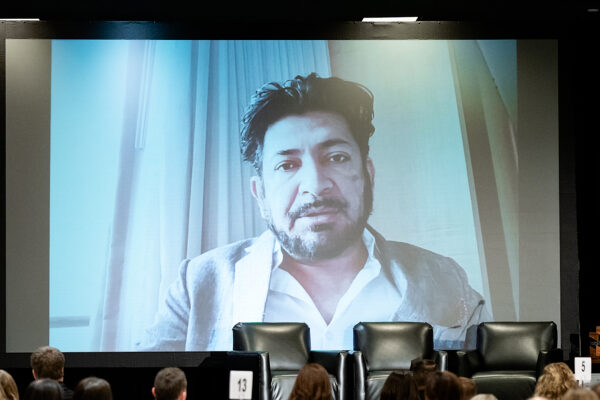 Dr. Siddhartha Mukherjee is a cancer physician, researcher, and Pulitzer Prize-winning author. His books, The Emperor of All Maladies: A Biography of Cancer (2010), The Laws of Medicine: Field Notes from an Uncertain Science (2015), and The Gene: An Intimate History (2016), have been influential sources of education for understanding not only cancer itself, but also the innovative treatments that have been developed to fight it. His next book, titled The Song of the Cell: An Exploration of Medicine and the New Human, will be released in October 2022.
For the last few years, Dr. Mukherjee has been working to bring cellular therapies to cancer patients in India.  This pioneering effort to create a regulatory framework for administering CAR T-cell therapy has already benefited a handful of patients and will ultimately contribute to many more lives saved.
On behalf of the Whitehead family, Ludwig family, and our entire Emily Whitehead Foundation team, we thank Dr. Mukherjee for his pioneering contributions to both the understanding of cell and gene therapies, and the worldwide distribution of CAR T-cell therapy.