8th Annual Tee Off for T-Cells Golf Tournament Raises $49.6K
On Friday, July 15 we hosted our 8th annual Tee Off for T-Cells charity golf tournament at Philipsburg Elks Lodge & Country Club.
This year's event was host to a record number of golfers, selling out our morning and afternoon tee time sessions, and raised a total $49,600. In eight years, Tee Off for T-Cells has now raised over $405,000 toward our mission to Activate The Cure for childhood cancer!
We are especially grateful to CNB Bank for returning as our top sponsor with a generous contribution of $10,000. This event would not be possible without the support of their team, many of whom also volunteer each year.
We are also thankful to our tournament host Jon Condo. As a board member and longtime supporter of the Emily Whitehead Foundation, Jon and his family have ensured that Tee Off for T-Cells continues to be a great success.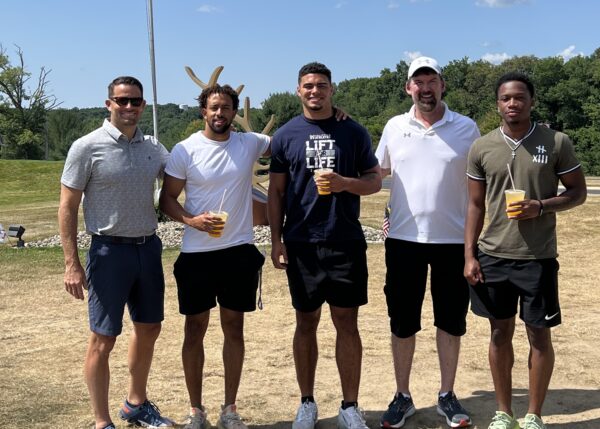 This year we were also joined by a few special guests, Penn State University Nittany Lions football players Keaton Ellis,  Brenton Strange, and Kalen King. We greatly appreciate these young men taking the time out of their day to show support for our mission and surprise our participants.
As always, we cannot thank our local Philipsburg community enough for continuing to support Tee Off for T-Cells. We love sharing this event with our hometown and look forward to doing so for many more years to come!
Special thanks to all event sponsors & participants:
CNB Bank, Philipsburg Elks Lodge & Country Club, Amy Nartatez, Brandon McCliment, CCRM, Ciocca Toyota, Clearfield Moose Lodge #97, Clearfield Wholesale Paper, Colombia Friendship & Fraternal Association, DiamondBack Truck Covers, Gamma Biosciences, GTS Scientific, Hrenko Insurance Agency, HRI Inc., IBEW 126, IBEW 459, Joyce Higgins, JJ Powell Inc, Keith Hahn, Lee Industries, Mark Baughman, Moyers Autobody, Nemacolin Woodlands Resort, Nittany Energy, Robin Hay, Ryan Mostyn, Trevor Straw, United Mine Workers of America, We Are Inn LLC, White Distributing Co.
Additional thanks to:
Best Way Pizza, Blaise Alexander, Joe Bartolo, Rusty's Oil, Sharon and Kelly's Beauty Salon, Tarps Direct, TL Bainey, Uncle Wheezie, Walter Hopkins
Media coverage:
"Tee Off for T-Cells" to fund pediatric cancer research – Peyton Kennedy, WTAJ-TV