2021 Believe Ball Virtual Experience Raises Over $240,000
On Thursday, September 16 we premiered the second chapter of our Emily Whitehead Foundation Believe Ball as a unique and inspiring virtual experience.
We are so thrilled to share that, with the help and support of our viewers, donors, sponsors, and volunteers, the 2021 Believe Ball raised an incredible total exceeding $240,000!
This funding will help to write more success stories by supporting future contributions to the advancement of pediatric cancer immunotherapy treatments, and by supporting our efforts to grow as a foundation and provide much needed resources and assistance to CAR T-cell therapy patients and families.
On behalf of the entire Emily Whitehead Foundation team, our childhood cancer warriors, and their families, we are so grateful to all who contributed to the success of this year's event.
We wish to give special thanks to Stephen, Tammy, and Jordan McInerney, Emily Hunt, Lisa and Roger Ward, friends and family of Nicole Gularte, and the Ludwig family for sharing their stories with us to illustrate that each individual's CAR T-cell therapy journey is unique.
Additionally, we give thanks to the historic Rowland Theatre in our hometown of Philipsburg, PA for accommodating us as our primary filming location — and to Paperboy Media Group for working with us to bring this event, and our Warrior and her T-cell friend, to life.
We look forward to continuing our quest to #WriteABetterStory for children fighting cancer. Save the date to join us for the third chapter of our Believe Ball on Saturday, September 17, 2022 at Valley Forge Casino Resort in King of Prussia!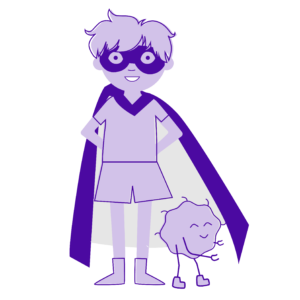 The 2021 Believe Ball can be viewed above in its entirety, or by visiting www.writeabetterstory.org/watch.
Prior to viewing, we recommend downloading and printing our symbol search map to follow along with the Warrior's quest.
Additional Thanks:
Bruce Levine, Donald Siegel, George Eastwood, Jessica Carmen, Shannon Eaker, Carl June, Darla Ludwig, Karen Dahl Andres, Joe Bartolo, Cale Mitchell Photography, Cheers in a Box
Sponsors:
Aldevron, Cytiva, Novartis, Penn Medicine, Oxford Biomedica, Children's Hospital of Philadelphia, Terumo BCT, Century Therapeutics, MaxCyte, Barkey, Be The Match BioTherapies, Brooks Life Sciences, Cryoport, Kite Pharma, Gabrielle's Angel Foundation, Gamma Biosciences, Sartorius, Magellan, Miltenyi Biotec