Nicole Gularte's Fight For A Cure
In 2016, we met Nicole Gularte when she reached out to Tom Whitehead after learning of Emily's story and told him that Emily was her hero. At the time, she had decided to stop further treatment, but had hope that CAR T-cell therapy might be her one last chance at a cure. The Whitehead family helped Nicole get from California to Philadelphia to receive CAR T-cell therapy in the clinical trial at Penn Medicine, following which Nicole was declared cancer free. Nicole became a great friend and a patient advocate for the Emily Whitehead Foundation, traveling with us to share her story and inspire others.
Following this first success with CAR-T, Nicole's cancer returned in 2018. She participated in another CAR-T clinical trial, which we shared about in this blog post below. However, this trial and one other were ultimately unsuccessful, and we are deeply saddened and heartbroken to share that Nicole passed away on April 24, 2020.
She was very proud to know that what researchers learned from her participation in the clinical trials would help others in the future. Nicole was a warrior and never gave up hope after 10 years of fighting, and her spirit and her mantra to "fight for cures" will inspire us always.
In the two years since our paths first crossed, Nicole Gularte's CAR-T journey has, in many ways, become an integral part of our own story – one that continues to inspire us to make a difference however we can.
Diagnosed with acute lymphoblastic leukemia (ALL) in October 2010, Nicole endured a number of relapses prior to becoming eligible to receive CAR-T cell therapy at University of Pennsylvania Medicine. Having learned about the success of the CAR-T cell therapy clinical trials at Penn and Children's Hospital of Philadelphia (CHOP) through her extensive treatment research, Nicole traveled from her home in California to Philadelphia in August 2014 to meet with Dr. Carl June and his team and have her T-cells collected.
Feeling inspired and hopeful that this treatment would be the one that worked, Nicole returned to California to adjust her treatment plans and allow for another relapse to make her eligible for the trial. It wasn't until April 2016 that she received the news that her cancer had returned — this time in her bone marrow and, unfortunately, her spinal fluid. The evidence of cancer in her spinal fluid (CNS) made her ineligible for the CAR-T trial at Penn, and it was soon after that Nicole made the decision to put a stop to further treatment and begin planning her own funeral.
When she first arrived in Philadelphia for her T-cell collection, Nicole had learned about Emily's story. Seeking guidance following her decision to forego treatment, Nicole reached out to Tom Whitehead.
Tom wrote of this conversation in a blog about Nicole's CAR-T treatment, saying:
I told her that it was hard for me to explain, but just like when I knew Emily would survive her treatment, I had a very strong feeling that she would get her modified T-cells if she kept fighting. I explained to her that I have learned to pay attention to the whispers in my life and that if she would keep fighting we would do anything and everything to help her. [Read More - T-Cell Therapy Patient Story: Nicole Gularte]
When Nicole had her bone marrow and blood tested again, her CNS results came back clear of cancer — a miracle, as Nicole has called it. Now eligible, Nicole returned to Philadelphia to receive her modified T-cells and participate in the CTL019 clinical trial at Penn Medicine. Twenty-eight days later, Nicole was declared cancer free.
In the time that followed, Nicole became a friend and patient advocate on behalf of the Emily Whitehead Foundation, sharing her story at several events – including our inaugural Believe Ball in 2017.
However, in mid-September of this year, Nicole learned that her leukemia had returned for the eighth time.
The cancer had found a way to survive the CAR-T cell therapy administered in the CTL019 trial, which trained her T-cells to target a protein on her cancer identified as CD19. Facing a renewed fight, Nicole, now living in Philadelphia, turned again to the team at University of Pennsylvania.
As a relapse patient who had previously received the CART-19 therapy, Nicole was eligible to enter another clinical trial — this one seeking to train her T-cells to target CD22, another cancer cell protein that has shown promise in responding to targeted CAR-T cell therapy.
Nicole has chronicled her CART-22 journey on her blog, Fight For Cures. On November 2, 2018, Nicole became the very first patient in this brand new clinical trial at Penn Medicine, and on November 7, 2018, received the first of three CART-22 modified T-cell infusions.
While in Philadelphia for the Philadelphia Marathon, we had the opportunity to visit with Nicole. Her response to the treatment was similar to her experience the first time — high fevers and cytokine release syndrome (CRS), a common CAR-T therapy side effect, as her immune system responded to the treatment.
By Thanksgiving, Nicole was through the worst of the "storm" and feeling better. And on Thursday, December 13, 2018, the results of her Day 28 check up revealed that the treatment had worked – no evidence of cancer!
The hope is that this new, CART-22 clinical trial will continue to help patients such as Nicole, whose cancer survived even following remission from CART-19 — as well as any other patients whose cancer cells express the CD22 protein. In addition to University of Pennsylvania, this same clinical trial is also open and enrolling pediatric patients at Children's Hospital of Philadelphia (CHOP).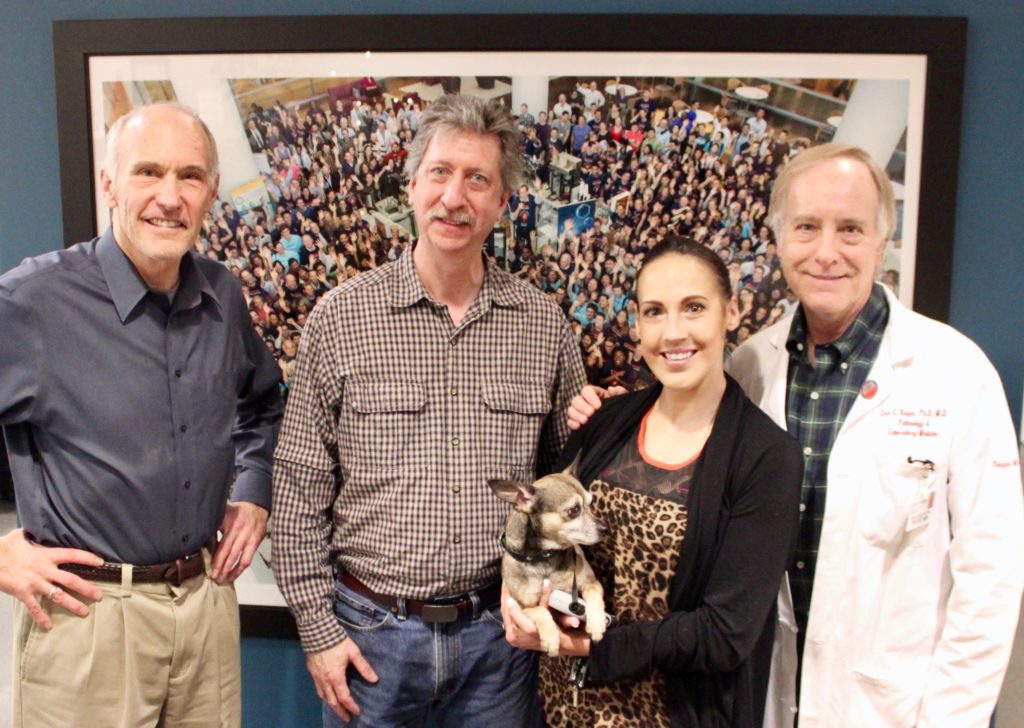 Dr. Carl June, Dr. Bruce Levine, Nicole Gularte and her dog Bentley, Dr. Don Siegel (December 14, 2018 at Penn Medicine)
On Friday, Nicole shared the news with her friends, family, and followers on her blog:
"I thank those of you who prayed for me. I thank God for the answered prayers. And I thank the UPenn team (and many others) for their perseverance and dedication; as their hard work has created miracles."