4th Annual "Take Down Cancer" Wrestling Event Raises Over $11K
On January 3, 2019, we began the new year by joining members of our local community at the 4th Annual Take Down Cancer Event — a combined high school wrestling dual-meet and fundraising event between rival high schools Philipsburg-Osceola and Clearfield, benefitting the Emily Whitehead Foundation.
Thanks to the combined fundraising efforts of the P-O and Clearfield school districts, this year's event once again raised thousands to help further childhood cancer research. During an intermission, Tom, Kari and Emily accepted a ceremonial check for $10,077 from the two schools. When combined with fundraising proceeds collected that night, this year's Take Down Cancer event raised a total $11,205! In four years, the Take Down Cancer event has now raised more than $55,000 on behalf of the Emily Whitehead Foundation.
This years's fundraising efforts included T-shirt sales, a bake sale, silent auction, Chinese auction, a lottery board drawing, and a 50/50 raffle. Additionally, the elementary schools in each district collected money throughout December to donate toward the event. Their efforts were beautifully displayed during the event when a handful of students carried a paper-link chain through the gymnasium, with each chain link representative of each dollar that was brought in by the elementary students, faculty and teachers.
As it has been in years prior, the gymnasium at the hosting Philipsburg-Osceola Area High School was packed. The wrestling match itself ended in a victory for the P-O Mounties, who won 53-19 over the visiting Clearfield Bisons.
While surrounded by so many of our friends, neighbors and members of our community, it was especially meaningful to also welcome CAR-T cell therapy hero Ayden Gora, his parents, and sister to this year's event to tell their story and share with those gathered the impact that EWF and CAR-T cell therapy has had beyond Emily. Ayden, who also had the honor to throw the opening coin toss, was treated in the clinical trial at Children's Hospital of Philadelphia and is now two years cancer free.
Thank you to the Philipsburg-Osceola and Clearfield school districts, wrestling clubs, volunteers and everyone who contributed to and participated in this 4th Annual Take Down Cancer Event — and special thanks to everyone in both communities for continuing to generously support EWF and our mission to help kids with cancer!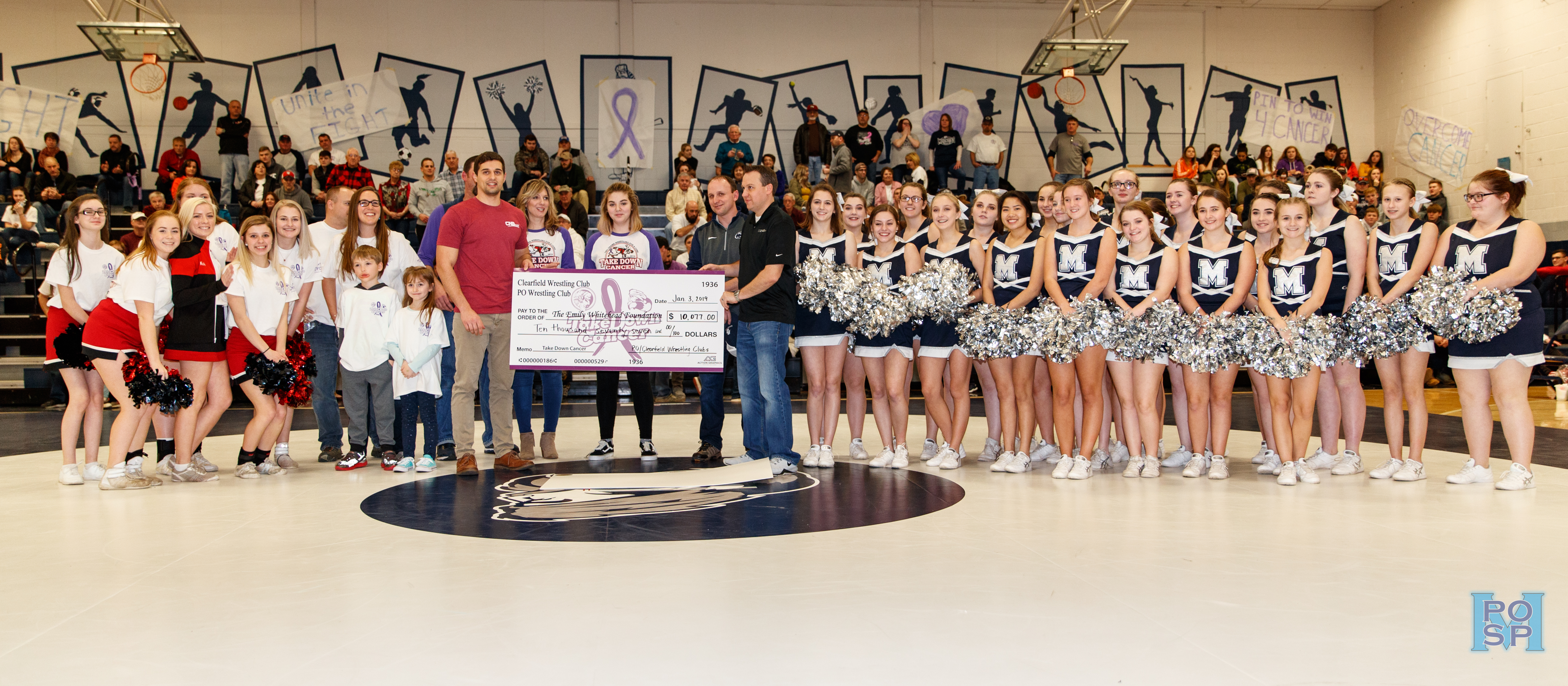 Photo credits:
Syed Karimushan
PO Mountie Sports Pics (Alan Murphy)
Additional thanks to:
Blaise Alexander, Clearfield Elks-BPOE Lodge 540, Clearfield Moose, Jims Sports Center, JJ Powell, Denochick Logging and Clearing LLC, Drayer Physical Therapy, Moshannon Valley Am Vets Post 159, Philipsburg American Legion Post 437, Timothy E. Durant Attorney at Law, and T.L. Bainey, for sponsoring event T-shirts.
WTAJ-TV, WJAC-TV, The Progress, Gant Daily, Altoona Mirror, and Passport Radio 98.5 FM & 900 AM, for event coverage in the media.
Action Graphics, for sponsoring the check presentation.
Lansberry Trucking and Irwin Citgo, for sponsoring the live radio broadcast.
CNB Bank volunteers.
Nittany Lion Wrestling Club and State Farm, for auction basket donations.