Lucy Whitehead & the Healing Power of Pet Therapy
On June 25, we lost an important member of our Emily Whitehead Foundation family - Lucy Whitehead, the pomapoo best known to the world as Emily's beloved companion through her cancer diagnosis and beyond. In their own words, Kari and Emily Whitehead share how Lucy brought joy to their lives when it was needed most and reflect on the value and healing power that a pet can have for children with cancer.
Emily has always loved pets. She often asked Tom and I for a pet, particularly a puppy, but we never felt like the time was right.
When Emily was admitted to the hospital, we were introduced to pet therapy where volunteers would bring trained dogs up to the pediatric oncology floor. The children who were able to come out of isolation could spend time with the dogs. It always made them smile!
Emily would often be sad and frustrated because of all of the time she had to spend in the hospital feeling sick. On the days they announced pet therapy, she would get so excited, and it gave her something to look forward to. Sometimes there was one dog, sometimes there were two or three. There were big dogs and little dogs, but they all had one thing in common - they brought smiles to the kids. From then on, I believed in pet therapy and the impact a pet can have on helping patients get better.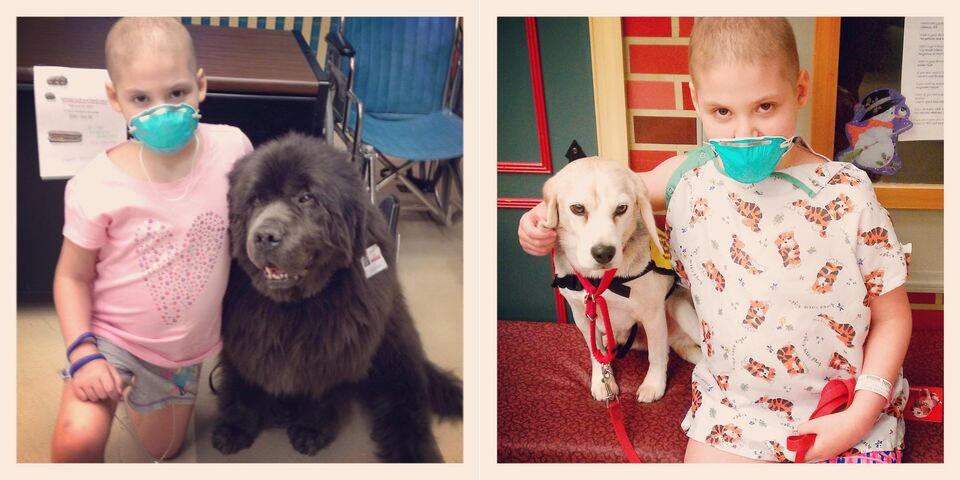 Emily with the pet therapy dogs at Hershey Medical Center.
In August 2010, just a few months after being diagnosed with leukemia, Emily was attending a cancer fundraiser. The person running the event, Kim Kawa, wanted to get Emily something special. I told her that Emily liked arts and crafts, and that she LOVED animals! She collected stuffed animals and already had a large collection. I assumed that Kim would get Emily a stuffed animal and bring it to the event, but she called me the day before and said "I have a puppy for Emily!"
Oh no, I thought! We can't possibly get a puppy. We are trying to adjust to a new life of cancer, and are just trying to get through everyday helping our five year old fight for her life. We don't have time for a puppy.
Then I thought about the smiles the dogs brought to the kids, so I called Tom and he [almost] immediately agreed that a puppy was just what Emily needed to lift her spirits.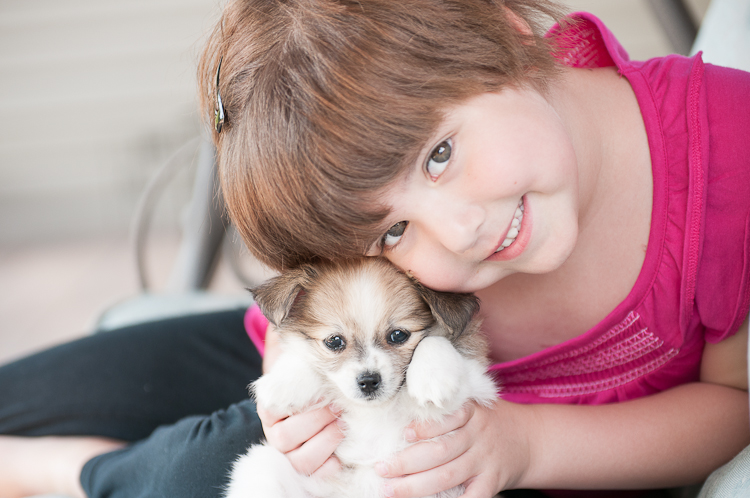 We have a video of the day Emily met her new puppy she named Lucy. Lucy was the greatest gift we've ever been given. Lucy not only took Emily's mind off of being sick, but it took our minds off of her being sick. After all, we had a puppy to house train now!
I can't imagine what that time would have been like without Lucy. When we traveled back and forth to the hospital, she stayed with Tom's parents, Nanny and Poppy. We even snuck her into the hospital to visit Emily a few times!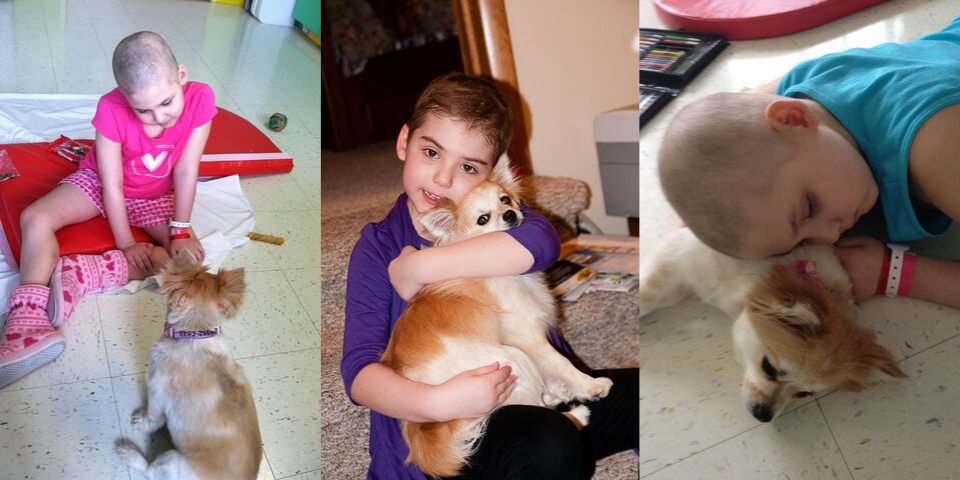 Lucy would visit Emily in the hospital during CAR T-cell therapy treatment.
When Emily relapsed the first time, she told us the day before that she thought her cancer was back. When we asked her how she knew, she said that Lucy stuck by her side and wouldn't play with her, and that's how she knew.
When Emily was recovering from the side effects of CAR T-cell therapy and on the ventilator, I would whisper in her ear, "as soon as you get better you can see Lucy," hoping to bring her back to us. We used Lucy to encourage Emily to get out of bed and learn to walk again. Her main goal was to get home to Lucy. Finally, the day arrived and they were reunited.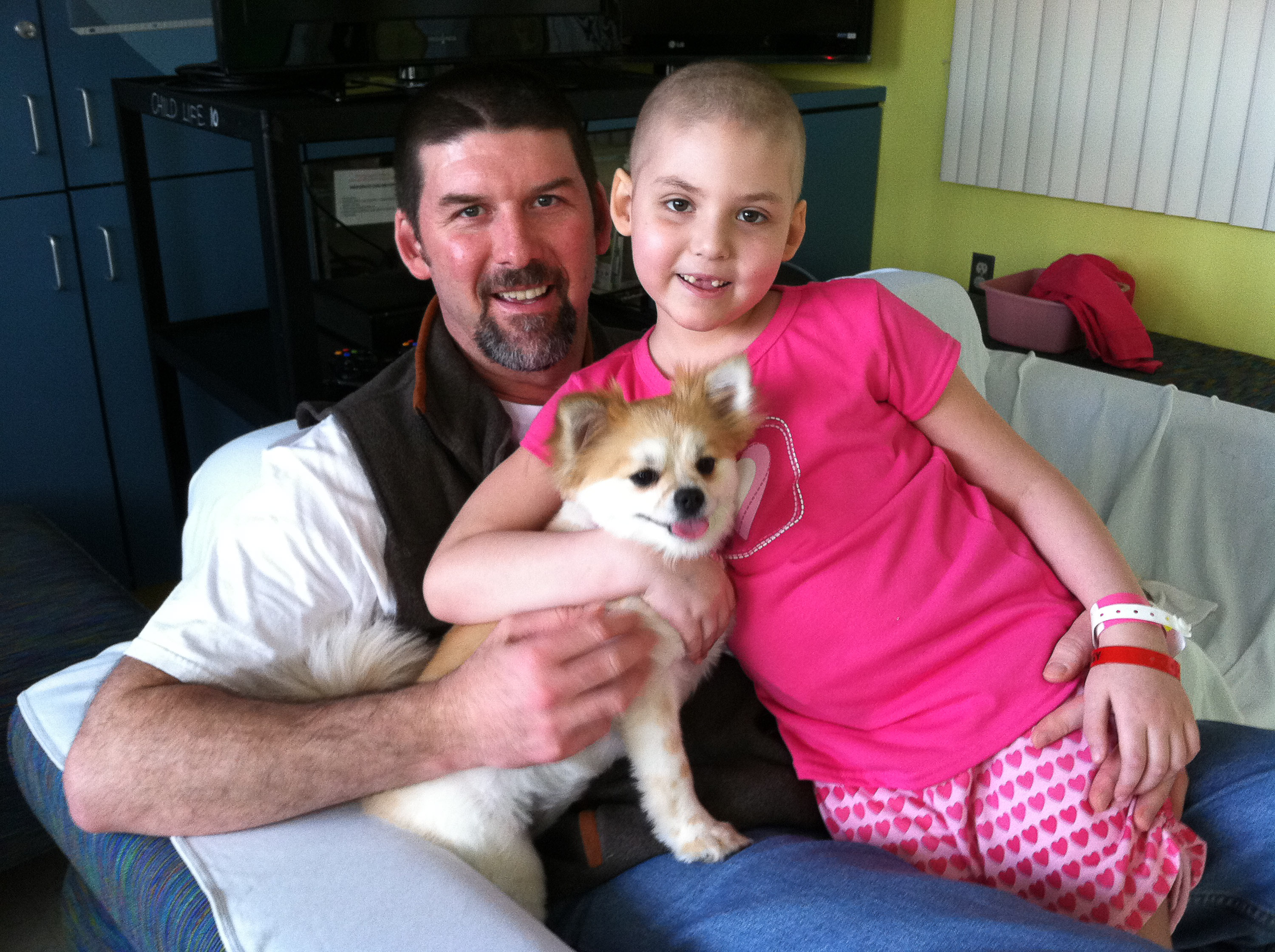 As Emily's story gained attention, Lucy appeared in many media photos and became quite famous herself. She was a little too big to travel with us, and was a little anxious in strange places, so she always stayed home with Tom's parents while we traveled.
A few months ago, Lucy developed a cough and had difficulty breathing. She was diagnosed with heart and lung disease, and we knew she was very sick. One night in June, she panted all night long, and in the morning, we knew we had to take her to the vet. We wouldn't be bringing Lucy back home. We said our goodbyes, and when the doctor gave her the sleepy medicine, she gently laid her head down and closed her eyes. Her little pink tongue stuck out just like it did when she was sleeping.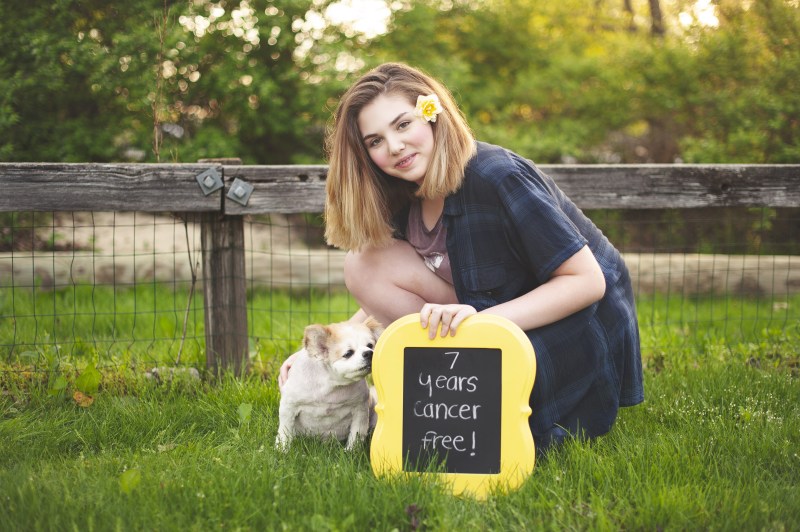 We had to leave our Lucy behind. We lost more than a dog, we lost a friend and a family member. She came into our lives at exactly the right time and for a reason. To help us all get through Emily's cancer.
After Lucy's passing, our house seemed too quiet. We didn't have anyone furry to cuddle with or talk to, so we started our search for a new puppy. In July, we found our new furry friend!
Lucy meant a lot to me and my family. She was by my side for a short nine years, and she had an amazing life. She visited me in the hospital multiple times when I was sick, and she gave me a reason to smile every day. Lucy and I had a bond that no other dog and I could have, and all of my friends were always excited to see her when they came over.

On July 10 we came home with Luna, our new chihuahua puppy. Luna and Lucy are both very loved in our family, and I'm looking forward to making new memories with Luna and remembering all the ones I made with Lucy.

~ Emily Whitehead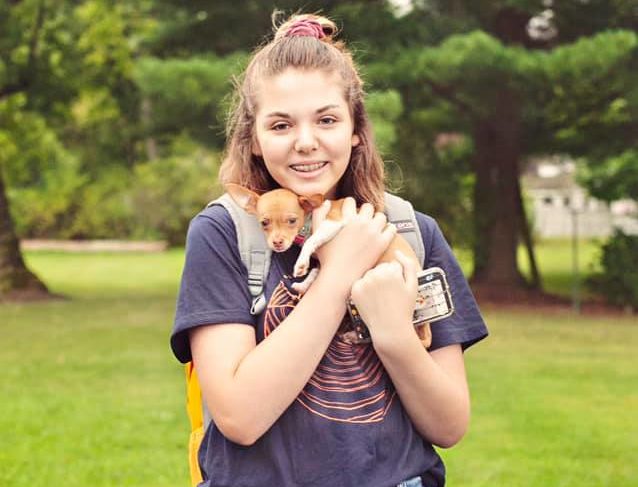 Emily and Luna celebrate the first day of high school.
We will always miss Lucy, but Luna has helped heal our hearts!
Kari Whitehead
Co-founder, Emily's mom