At just 10 weeks old, after her parents expressed concern to their pediatrician about an abnormal bump on her head and were sent for further consultation, Paisley Rae was diagnosed infant acute lymphoblastic leukemia. When Paisley relapsed at five and a half months old, her parents decided to put their trust in CAR T-cell therapy at the Children's Hospital of Philadelphia (CHOP). Today, Paisley is strong, vibrant, and 18 months in remission. 
In their own words, Paisley's mom Nicole shares the story of her daughter's diagnosis, her family's resilience, and the journey to CAR T-cell therapy. 
Paisley Rae Perrone was diagnosed at the tender age of 10 weeks. It started with a small bump on the top of her head where her soft spot is. She was brought to the pediatrician where they diagnosed her with a fatty cyst. They said not to be concerned, but to return if it did not resolve on its own.
The bump began to grow so the pediatrician ordered additional testing, including an ultrasound and consulting with a neurologist. Upon imaging, the radiologist said it was accumulated fluid and, again, not to be concerned. Paisley also left the neurologist stumped so she was referred to CHOP dermatology. It was here that the doctor did a punch biopsy of her scalp.
Two days after the biopsy, Paisley developed right sided facial drooping. Concerned, I called the doctor, and it was here we found out what was really going on with Paisley. Unfortunately, the doctor had to give us the news over the phone and requested we immediately go to the Emergency Room at Children's Hospital of Philadelphia.
We were met by two amazing oncologists who walked us through the cancer diagnosis. Paisley was diagnosed with Infant Acute Lymphoblastic Leukemia. Unfortunately, the prognosis for infant leukemia is worse than childhood leukemia. Statistically the overall survival is about 20%.
Right away the doctors talked about the new immunotherapy they had been using called CAR T-cell therapy.
After diagnosis we had to move inpatient in the hospital. Due to COVID we couldn't have any additional visitors and could only have the same 2 caregivers during entire treatment. Paisley's dad had to continue to work daily while I stayed inpatient the entire time. We had to have family step in to help care for our son Paxton. This was the hardest part, living for months with our family being torn apart physically.
Siblings who didn't see each other left us broken hearted. We also had to re-home our family dog as we couldn't find anyone who could temporarily take care of him. Also, bills didn't stop coming in, so we definitely fell upon financial hardship. We were left trying to keep a previous lifestyle but on a single income.
Then Paisley relapsed in January 2021 at the age of 5.5 months.
Our amazing team of oncologists all sat down and went over what would be the best course of action for Paisley. They thought about the traumatic, hard long-term effects that bone marrow transplant would have on her for doing it so young. They decided to go the CAR-T route. We as her parents decided we needed to put our faith in new science and try this new immunotherapy, if anything to buy time until she was older to be able to better handle a bone marrow transplant.
The process was very easy honestly. The team at CHOP had CAR T-cell treatment as a possible option since the day of diagnosis. They collected Paisley's T-cells when she was first diagnosed, prior to any chemotherapy, so she did not need any further apheresis. The doctors explained everything in great detail and handled everything for us, so it was honestly very stress free.
We did have a small amount of B-cell return 6 months post initial infusion, so we re-infused her cells in November 2021. After this infusion we did get some fevers the following day, so we were admitted but are happy to say we have not been on the inpatient side of the hospital since.
We have gotten to be HOME for the majority of treatment which has been amazing! We have watched our family grow up together! Paisley has thrived immensely, both physically and mentally, being around her family and friends. She has even started daycare. She gets weekly subcutaneous infusions of Hizentra, but other than that she now lives a pretty "normal" lifestyle.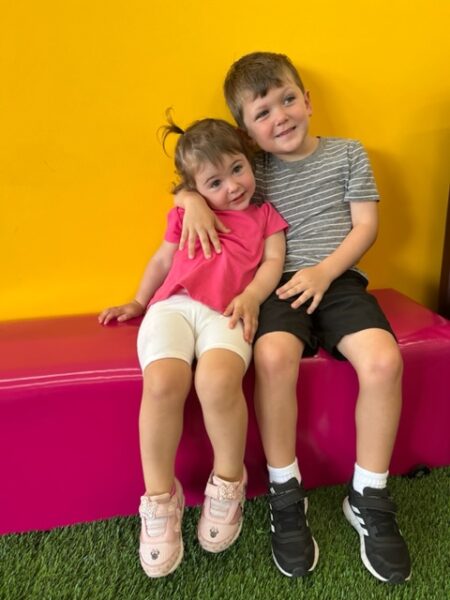 Paisley is spunky, vibrant, cheery, and fierce. She has the power to shine light into every single room she walks into. She is the toughest and strongest little girl I have ever met. Even people who do not know about her background comment about how physically strong of a little girl she is. She loves singing and dancing and snuggling. Her smile and laugh are absolutely contagious, and she is truly heaven sent.
To parents considering this therapy for their child: As someone who was skeptical initially, please put your faith in science and know this new immunotherapy has the power to perform miracles. It is the new future with so much less harsh side effects. Don't give up hope, there are so many advancements happening all around now.
We couldn't be more thankful for this amazing immunotherapy and thankful her doctors allowed us to be a part of this opportunity.
We receive messages from families around the world with experiences similar to Paisley's family. We do whatever we can to be a resource for these families to help them get enrolled in a clinical trial or find an eligible CAR T-cell therapy treatment center. 
To search for available CAR T immunotherapy clinical trials, visit our Pediatric Cancer Clinical Trial Finder. To help us in our mission to give children around the world the opportunity to Activate the Cure to their cancer, Get Involved or Donate now.