Preparing for 2nd Annual "Tee Off for T-Cells" Golf Tournament
The second annual "Tee Off for T-Cells" charity golf tournament is fast approaching! Although a whole year has passed, it still seems like such a short time ago that we were preparing for and planning our first tournament.
Exceeding our every expectation, last year's inaugural event raised more than $40,000. Those funds were then put toward our first $100,000 grant, which we presented to Dr. Stephan Grupp at the Children's Hospital of Philadelphia (CHOP) to help support the clinical trial that saved Emily's life.
Coupled with positive feedback from the players, last year's overwhelming success prompted the decision to make "Tee Off for T-Cells" an annual event.
On July 15, 2016 we will once again take to the course at Philipsburg Elks Lodge & Country Club and tee off in support of raising funds for pediatric cancer research. With nearly twice as many teams and more celebrity athletes participating, this year's tournament is already proving greater than the first.
We are especially excited to welcome back Jon Condo as the tournament host. The Oakland Raiders long snapper is also a Philipsburg native and shares our sentiment for keeping the tournament local as a show of appreciation to the community that has been so incredibly supportive of Emily over the years.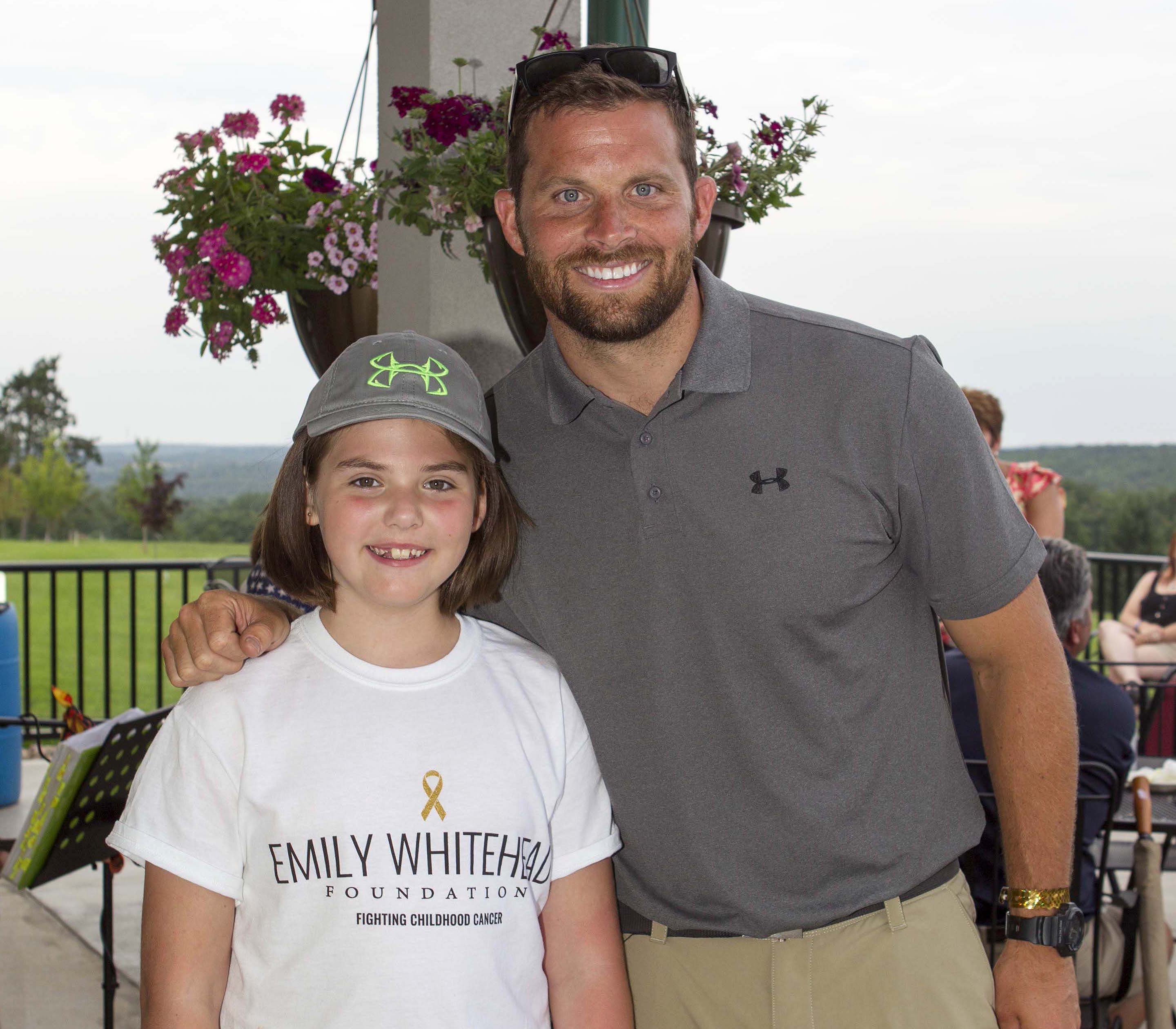 Emily Whitehead and Jon Condo of the Oakland Raiders at the inaugural "Tee Off for T-Cells" golf tournament. (July 10, 2015)
As with last year, "Tee Off for T-Cells" is not an event for just the golfers. The public is invited—and encouraged!—to attend both the simultaneously held silent auction and the post-tournament live auction and social hour. (See details below, including the complete lists of auction items)
While we look forward to sharing a fun day with all in attendance, our goal with holding this charity golf tournament remains in doing what we can to save the lives of children who are in need of receiving T-cell therapy when all other cancer treatments fail.
These are children who have been fighting cancer for years and have been told they were out of options for further treatment. Everyone who supports the golf tournament is helping other children receive the breakthrough T-cell therapy treatment that Emily received. We started the foundation to help save other children's lives and with all of the support we have had we can say we are definitely making a direct impact. – Kari Whitehead, EWF co-founder
We hope to see you July 15!
For more information visit: www.emilywhiteheadfoundation.org/golf/