Emily Whitehead Foundation: Our First Year
We are amazed that it has already been exactly one year since the Emily Whitehead Foundation launch — and what an incredible year it has been!
A few highlights:
Looking back, our time spent raising funds and spreading awareness for childhood cancer was nothing short of extraordinary. Soon after our launch, Emily, Tom and Kari were invited to join President Obama at the White House for his announcement of the Precision Medicine Initiative, a plan to improve cancer treatment with specifically tailored treatments based on a patient's individual genetics. Emily is one story featured in this White House Blog Post — Precision Medicine Is Already Working to Cure Americans: These Are Their Stories.
In early March, Emily's story was featured in the season premiere of HBO VICE: Killing Cancer, which spotlighted Dr. Carl June's immunotherapy research.
Staying successful in sharing cancer awareness that month, March ended with Emily's story  featured in the three-part documentary, "Cancer: The Emperor of all Maladies," on PBS.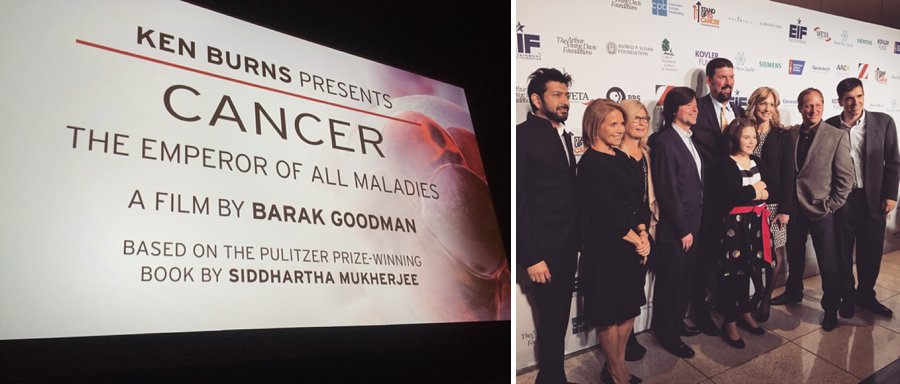 In May, Emily celebrated her tenth birthday as well as being 3 years cancer free, and in June Emily was awarded the BIO Superhero Award at the BIO International Convention in Philadelphia.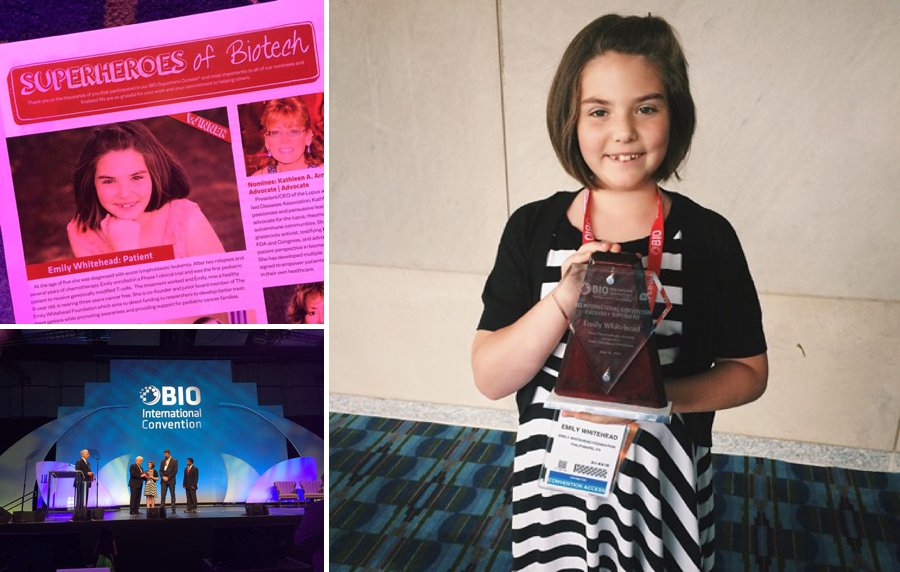 The summer was also quite a busy time — especially with an exciting trip to Switzerland in July to visit the Novartis Headquarters for a company broadcast with a team of cancer researchers, including Dr. Stephan Grupp and Dr. Carl June, to inspire others with Emily's story.

In the days following that trip, we teamed up with Jon Condo of the Oakland Raiders to host our first annual "Tee Off for T-Cells" golf tournament that raised more than $40,000 for childhood cancer research!
November was also an exciting month, starting with the 2015 Blue Mountain Summit, where Tom and Kari shared Emily's story. Blue Mountain Quality Resources and it's employees raised $3,240 for the foundation!
Thanks to everyone's continued support, we became an official charity partner in November's Philadelphia Marathon. Seventy runners participated on behalf of EWF in either the 8K, half marathon, or full marathon and altogether raised an astonishing $56,000+ for the foundation! 

It was therefore truly an honor to wrap up this first year by presenting a check for $100,000 to Dr. Stephan Grupp of the Children's Hospital of Philadelphia (CHOP). Dr. Grupp is Emily's pediatric oncologist and the funds will be used to continue the T-cell therapy trial that saved Emily's life!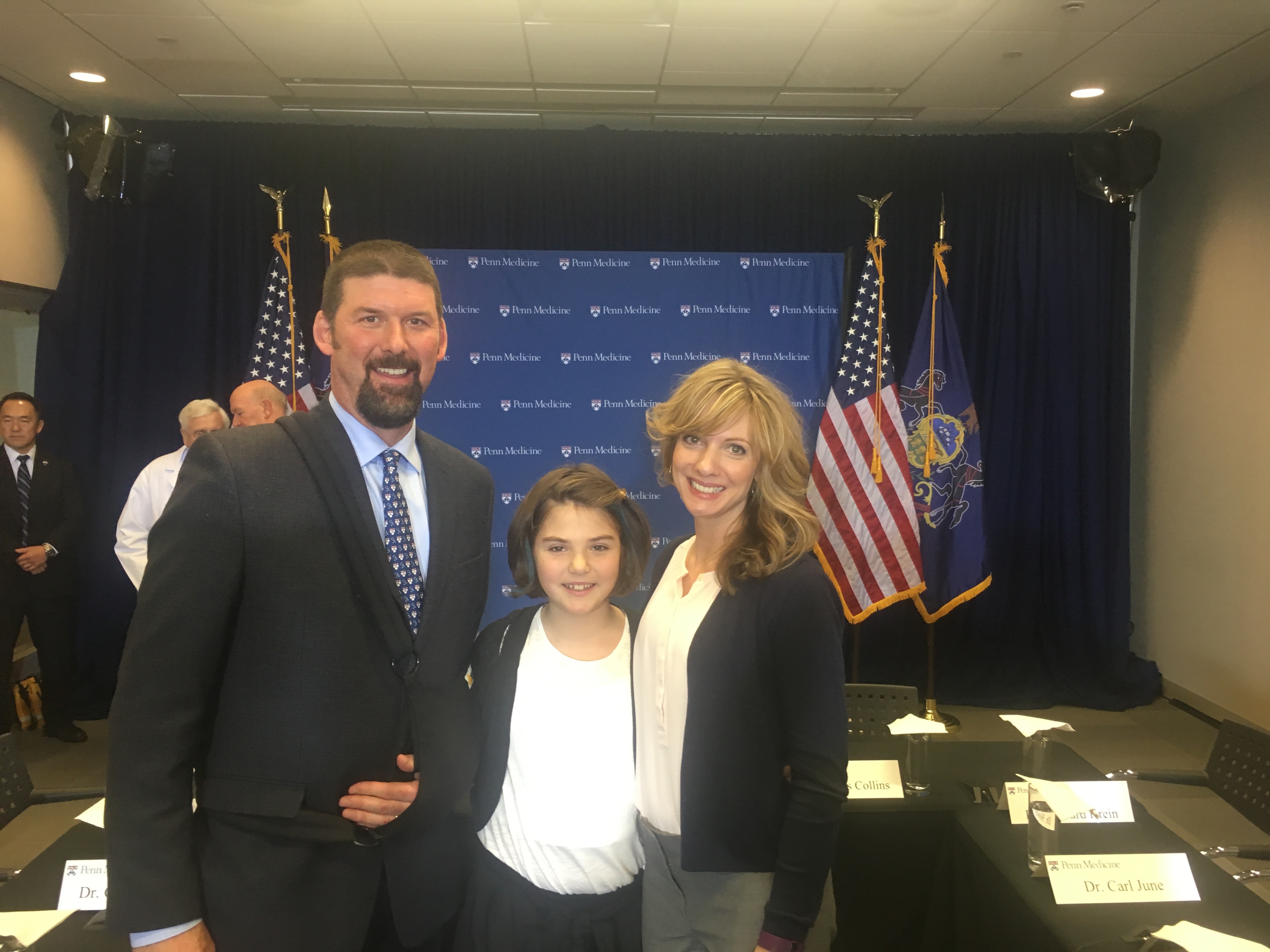 Entering 2016, Emily, Tom and Kari were grateful for the opportunity to attend Vice President Biden's Moonshot Initiative launch at Penn Medicine's Abramson Center in Philadelphia, which plans to accelerate cancer research for a cure!
We Believe the year ahead is promising for the Emily Whitehead Foundation and advancements in childhood cancer research!
Save-the-Date for the following events:
- Our second annual "Teeing Off for T-Cells" golf tournament will be held on July 15th!
- Run with us the weekend of April 30–May 1 at the Pittsburgh Marathon!
Thank you to all who have supported the Emily Whitehead Foundation this first year, with special thanks to those who created individual fundraisers throughout 2015:
CNB Bank Ice Cream Social, which raised $1,100
CVS employees in Philipsburg, who holds dress down days

and collected more than $140

State College YMCA Summer Camp, who 

held a fundraiser and collected $1,401

John Spiridigliozzi from Boston, who hosted Halloween a party with more than 50 guests and asked them to donate to the Emily Whitehead Foundation, raising more than $800

Board member Jessi Ayoub and husband Pete Ayoub, who donated money to the Emily Whitehead Foundation in lieu of providing favors at their wedding

Eric Harkins and April Schreck, who also donated to the Emily Whitehead Foundation in lieu of wedding favors

Tom Garrett, who presented the foundation with a check for $500 as part of the Blood Sweat and Tears Annual 5-Miler Run