Celebrating 10 Years Cancer Free
Today, Emily is 10 years cancer free! With this important milestone reached, we can now also celebrate that Emily is CURED.
Ten years ago, our family received a true miracle when Emily fought to survive after becoming the first pediatric patient in the world to receive CAR T-cell therapy.
She doesn't remember the pain from back then, but it has brought us closer together than most families ever get. Emily is now her own person, and she is ready to take on the world and let everyone know that "this is what I went through back then, but now I am excited for the future, and I have no limits."
To hear Emily's doctors and the scientific community say that Emily is not only CURED, but she helped to pioneer a new cure for others is incredibly humbling.
We were so close to losing Emily, and while it was brutal to get through those toughest of times, what we went through pales in comparison to the experience of parents who have lost their child to cancer. Some of those bereaved parents reached out to help us when we needed it most, and it is their strength that inspires us to do whatever we can to change that outcome for other families every day.
We hope that, in the next ten years, these amazing doctors and researchers find success in using cell and gene therapies to treat more solid tumor cancers.
It is also our hope that most blood cancers will someday soon become treatable as an outpatient immunotherapy treatment upfront at diagnosis. We do believe that CAR T-cell therapy has the potential to replace today's standard of chemotherapy, radiation, and bone marrow transplant.
Emily recently celebrated her 17th birthday. She works very hard at school, gets good grades, and truly cares about wanting to make a difference in the world. It has also now been ten years since Emily has spent the night in a hospital. We feel incredibly blessed to see Emily cured and thriving in life!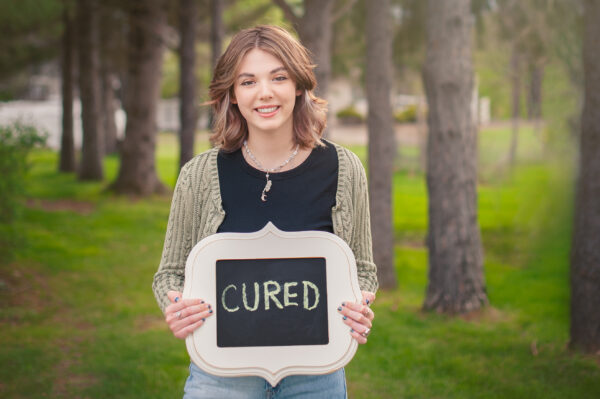 The CAR T-cell trial saved our entire family. It gave us the miracle we were looking for and demonstrated that pediatric cancer research can lead to the development of new cures for both children and adults.
We are incredibly thankful for our family, friends, and the supporters that lifted us up and kept us sane through our toughest moments ten years ago. Every fundraiser made a difference, and every prayer was heard. It definitely took a village to save our family!
We also could not have built up our foundation to what it is today without the support of so many incredible people — companies, organizations, doctors, researchers, and other CAR-T patients and families — that we have had the pleasure to engage with.  This milestone anniversary is just as much a celebration for everyone in this industry who has contributed to the development and advancement of CAR T-cell immunotherapies throughout the last ten years.
We are proud to share this moment with all of you.
Here's to the next decade of CAR T-cell therapy — together, we will activate the next cure for cancer!
We Believe!
Tom, Kari, and Emily
Every child fighting cancer should have the opportunity to activate their CURE. Join us in celebrating 10 years of CAR T-cell therapy by donating $10 toward our mission to support advanced pediatric cancer immunotherapy research — now in pursuit of the next cure!
The content of this post is copyrighted to the Emily Whitehead Foundation. For permission to quote from this article and/or use photos please contact amanda@emilywhiteheadfoundation.org.